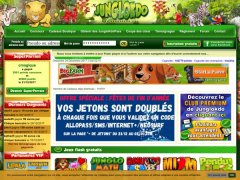 Junglokdo


Trusted site recommended by Online Money World

Doubtful

9 payment proofs
Description
Junglokdo is a free games site created in 2009 that is part of the JLKgame network and belonging to the "Aldajuste Marsden" company.
On Junglokdo, you will find many free games :
14 free flash games, including a quizz, a hangman, ...
scratch tickets
contest and clan cup tickets
You will also find :
a clans cup
a bonus game (with paid clicks) to earn more points
a gambling game : free sports bets for which you can bet points or jungs.
a 100% winning grid thanks to which you can earn 300 €, JunglokdoPass, points, tokens, stars, .... (Paid game)
tickets : VIP ticket and premium ticket
etc.
On Junglokdo, there are 3 internal currencies :
tokens : this allows you to play the free games of Junglokdo.
points : when you play Junglokdo free flash games, you get points.
jungs : to order a gift, codes or money in the shop, you will first need to convert your points into jungs thanks to the converter available in the menu : Cadeaux Boutique -> Convertir des points en jungs.
Finally, in order to obtain tokens or to access some paying games of the site, you can validate JunglokdoPass A and JunglokdoPass B.
Other sites of the JLKgame network : Lapiwin, Lipala and GrilleGagnante
Other infos
Site created in 2009
Country where the server is located :
Payments
Payment from 15 €
In the shop of the site, you will find :
- bank checks
- gift cards : Amazon, Carrefour, Google Play (Play Store), iTunes, Spotify, Micromania, ...
- consoles : PlayStation (PS4), Nintendo Wii U, Xbox One, ...
- games for consoles (PS4, Nintendo DS, ...) and PC.
- High-Tech gifts, including smartphones and tablets : iPhone 7 Plus, Samsung Galaxy S7, iPad Air 2
- the ability to promote your site through incentive clicks with a 10-second timer.
- as well as other gifts.

In the shop, you will also find codes for other free games sites :
- LipalaCode
- lapiwinpass
- Alienz +
- Mini-Codisc
- codisc
- etc.
Payment processors available
Latest payment's proofs
Referral program
Referral on 1 level : 100% > 5%
You receive 100% of the free tokens used by your referrals for 30 days, then 5% after these 30 days.
Our opinion
Good free games site that pays
Note : 5 / 5
Access the site

Review published on 17 August 2017 UTC by mondegains