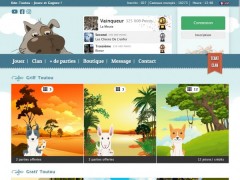 Kdo-toutou


Description
Kdo-toutou is a free game site for dog fans that is available in French and English.
Unlike other free game sites that are only suitable for computers, the Kdo-toutou site is also suitable for smartphones.
On Kdo-toutou, you will find:
3 "grid" type games, 2 of which are free and one is paying.
3 "scratch ticket" type games, 2 of which are free and one is paying.
3 internal Kdo-toutou competitions reserved for clans.
a clan cup with 1,000,000 free points.
a contest validators with 250,000 points offered.
a super sponsor system allowing you to earn thousands of points.
Other infos
934 members
Country where the server is located :
Payments
Payment from 5 €
In the Kdo-toutou shop, you will find:
- codes for game sites: AlienZ'+, AlienZ'++, CaraChallenge, Castorz A, Clapcode, Topcode A, Topcode B, as well as many other types of codes and variants thereof.
- money: Amazon gift cards from €5 and bank transfers from €10.
Payment processors available
Latest payment's proofs
No payment proof available for this site
Referral program
Referral on 1 level : 10%
You earn 10% of the earnings of your referrals (only for their free games).
Our opinion
A good game site with codes for many other game sites (including CaraïbesLand, CastorMania, Ovniz, ...).
Note : 3 / 5
Access the site

Review published on 05 November 2023 UTC by mondegains