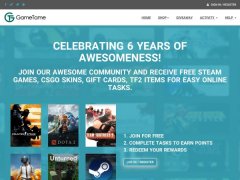 GameTame (SteamPowers)


Description
GameTame (formerly : SteamPowers) is a website that allows you to get Steam games (+ 240 different games available in store) and gift cards for free.
To get points on GameTame, simply complete offers and surveys in the dozen offerwalls available on this site.
Among the available offers, you will find :
paid surveys
paid registrations (PTS)
mobile applications to download
paid videos
various offers
In addition to the classic offerwalls, GameTame also provide 3 offerwalls dedicated to paid videos : EngageMe, Videdo Lab and HyprMX.
Finally, know that you can also earn up to 200 points ($ 2) per 1000 views by creating a video on Youtube.
Compensation varies depending on your number of subscribers.
Daily bonus of 0.30 points available in the "Bonus zone" section of GameTame.
Offerwalls available
Fly over the logo of an offerwall to get more information about it.
Other infos
50376 members
Site created in 2011
Country where the server is located :
Payments
Payment from 5 $
In the shop (stores menu), you will find :
- 248 Steam games
- some gift cards :
Amazon (amazon.fr, amazon.com, amazon.de, ...) (from 5 $, 10 €, ...)
Google Play ($ 10)
Steam ($ 5 / $ 10 / $ 20)
Battle.net ($ 20)
Minecraft
and more.
- 3-month subscriptions to Xbox Live Gold
- Steam trading cards
- items for : Counter Strike Go (CSGO), Team Fortress 2 (TF2), Dota 2 and PlayerUnknown's Battlegrounds.
Payment processors available
Latest payment's proofs
Referral program
Referral on 1 level : 10%
You earn 10% of your referrals earnings.
Articles
GPTs (Get Paid To) are paid sites where you are paid to complete free offers, but also paid surveys.

GPT (Get Paid To)
01/05/2018 à 12h02
Our opinion
It's a must-have site for gamers, because it allows you to get over 240 different games for free on Steam.
Note : 5 / 5
Access the site

Review published on 17 August 2017 UTC by mondegains