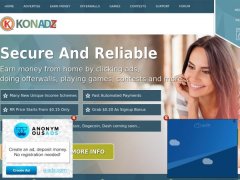 Konadz

Description
Konadz is a new GPT created by Konadz Media on March 2, 2018 and that offers you :
a PTC with about thirty paid clicks
a grid (kongrid) lets you earn credits or other gifts
a PTSU with paid registrations (this section is currently empty)
To earn a little more money through konadz, this site offers also a bunch of offerwalls, including the famous PTCWALL, persona.ly, ...
In addition to these options, you will also find a Rev share section with advertising packs from $ 5.
Finally, there is also the possibility to promote your favorites sites in their PTC, their PTSU, ... by buying the advertising pack suitable for your needs (from 0.40 $).
Offerwalls available
Fly over the logo of an offerwall to get more information about it.
Other infos
9765 members
Site created in 2018
Country where the server is located :
Payments
Payment from 4 $
Payment processors available
Latest payment's proofs
No payment proof available for this site
Referral program
Referral on 1 level : ? %
You need to perform at least 4 clicks a day in the PTC to receive your sponsorship commissions for the next day.
Articles
GPTs (Get Paid To) are paid sites where you are paid to complete free offers, but also paid surveys.

GPT (Get Paid To)
01/05/2018 à 12h02
Review published on 25 June 2018 UTC by mondegains