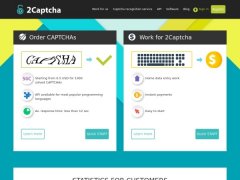 2captcha

Description
2captcha is a very special paid website that pays you to solve captchas (including Google's anti-robot recaptcha codes).
The current rate is approximately $ 0.20 for 1000 anti-robot codes in image format and $ 1 for 1000 Recaptcha anti-robot codes.
Nevertheless, know that the 1st rate often varies according to the demand of their clients.
In addition, 2captcha works on PC, as well as on smartphone.
Other infos
Country where the server is located :
Payments
Payment from 0.5 $
Payments within 5 business days.
Payment processors available
Latest payment's proofs
No payment proof available for this site
Referral program
Referral on 1 level : 10%
You earn :
- 10% of the earnings of your referrals who register to earn money by solving captchas
- 10% of the money spent by your referrals who register to automatically resolve captcha with 2captcha
- 10% of the money spent by your referrals who register as a developer and 5% of their fees
Access the site

Review published on 03 February 2019 UTC by mondegains