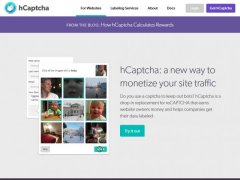 hCaptcha

Description
hCaptcha is a site to protect forms of your site (including the contact page) with paid anti-spam codes (captachas).
hCaptcha is the solution that you are looking for if you want to replace your unpaid captchas (or provided by Captch Me that has closed) by paid captchas.
Unlike the ReCaptcha service of Google which is free and that don't allow you to earn money, hCaptcha will pay you for each captcha completed by your visitors.
Note that hcaptcha is based in background on the Ethereum blockchain.
In addition, you can quickly adjust the difficulty's level of the captchas system from your hcaptcha account.
Finally, you will find all the information you need in their official documentation. hCaptcha offers many languages, as well as themes for the captcha to display on your website.
Other infos
Country where the server is located :
Payments
Payment from 10 HMT (Human Tokens) that can be converted to dollars.
Latest payment's proofs
No payment proof available for this site
Referral program
Referral on 1 level : 5%
You earn 5% of tokens obtained by your referrals.
Access the site
Review published on 25 April 2019 UTC by mondegains