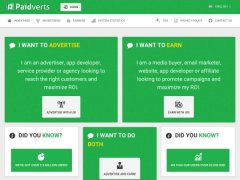 PaidVerts

Description
PaidVerts is a PTC with more than 3 million users that offers :
paid clicks (up to $ 0.01 per click)
a grid with 20 chances per day that can win up to $ 100 / 1 million BAP (currency of the site)
You will also find paid offers provided by different offerwalls : Wannads, Offertoro, SuperRewards, ...
Among these paid offers, you will find :
paid registrations
paid surveys
mobile apps to download
and more
If you want to recruit referrals on other paid sites, you can buy targeted advertising, cheap traffic, the promotion of banners, ...
Note : PaidVerts is available in English, Spanish and Polish.
Other infos
3020453 members
20 daily clicks paid up to 0.01$ / click
Site created in 2014
Country where the server is located :
Payments
Payment from 2 $
As well as Litecoin.
Payment within 7 days.
Payment processors available
Latest payment's proofs
No payment proof available for this site
Referral program
Referral on 1 level : 5% < 10%
You earn 10% of the money your referral spends for ad purchases and 5% of the money he earns on PaidVerts.
Review published on 22 December 2018 UTC by mondegains