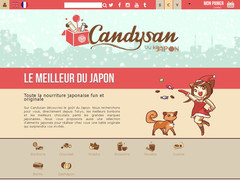 Candysan


Description
Candysan is an online Japanese grocery store created by Ici JAPON.

Thanks to this online site, you will be able to taste Japanese food without leaving your home.
Nevertheless, be aware that the delivery times are rather long (a few weeks) even if the site is very serious and popular.
On Candysan, you will first find these packs :
discovery pack at 29,97 €
snack pack at 22,88 €
Surprise pack at 19,99 €

Then, you will also find food and not-food products at low prices :
candy
snacks (including melon cookies)
chocolates (as well as variations that don't exist in France, such as Kit Kat Wasabi).
drinks (including Fanta with grapes)
japanese noodles
figurines and plush toys : Pokemon, Dragon Ball, One Piece, ... also called gashapons.
japanese cooking utensils.
and more.

Other infos
Country where the server is located :
Payments
Payment processors available
Promo codes
Fly over the name of a promo to get more information about it.
Our opinion
The best site to buy Japanese products at low prices.
Note : 5 / 5
Access the site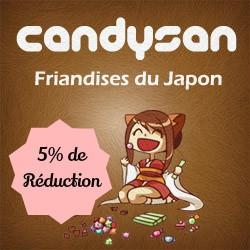 Review published on 17 August 2017 UTC by mondegains