When you get a prepaid virtual Mastercard from Prepaid Digital Solutions, you can spend the money of it by simply making purchases at merchant sites that accept Mastercard cards.
However, most of the time, it will only work if the amount of your purchase is less than the remaining balance on your prepaid virtual Mastercard.
If you use it like that, chances are you will end up with a few dollars or pennies every time on your free prepaid virtual Mastercard.
To avoid losing a single penny, we are going to show you a little trick that we use and which basically consists of buying a gift card on the merchant site that you want, the amount of which corresponds to the value of your virtual prepaid Mastercard.
Thus, this will allow you to have a reduction (= the balance that was available on your virtual prepaid Mastercard) and to pay the rest with another payment processor : PayPal, bank transfer, Bancontact, ...
Info : if you are looking for how to get a virtual prepaid Mastercard card, see our article : Get a free prepaid virtual Mastercard with Prepaid Digital Solutions
1. Buy an Amazon.fr gift card with your virtual prepaid Mastercard
For this tutorial, we will be purchasing an Amazon.fr electronic gift card directly from the Amazon.fr website.
Thus, we are sure that the gift voucher will be valid.
As you can see, you can order gift cards of € 20, € 50 or any other amount.
Select the desired amount (which corresponds for example to the value of your virtual prepaid Mastercard card and specify the e-mail address to which you wish to receive this Amazon gift card.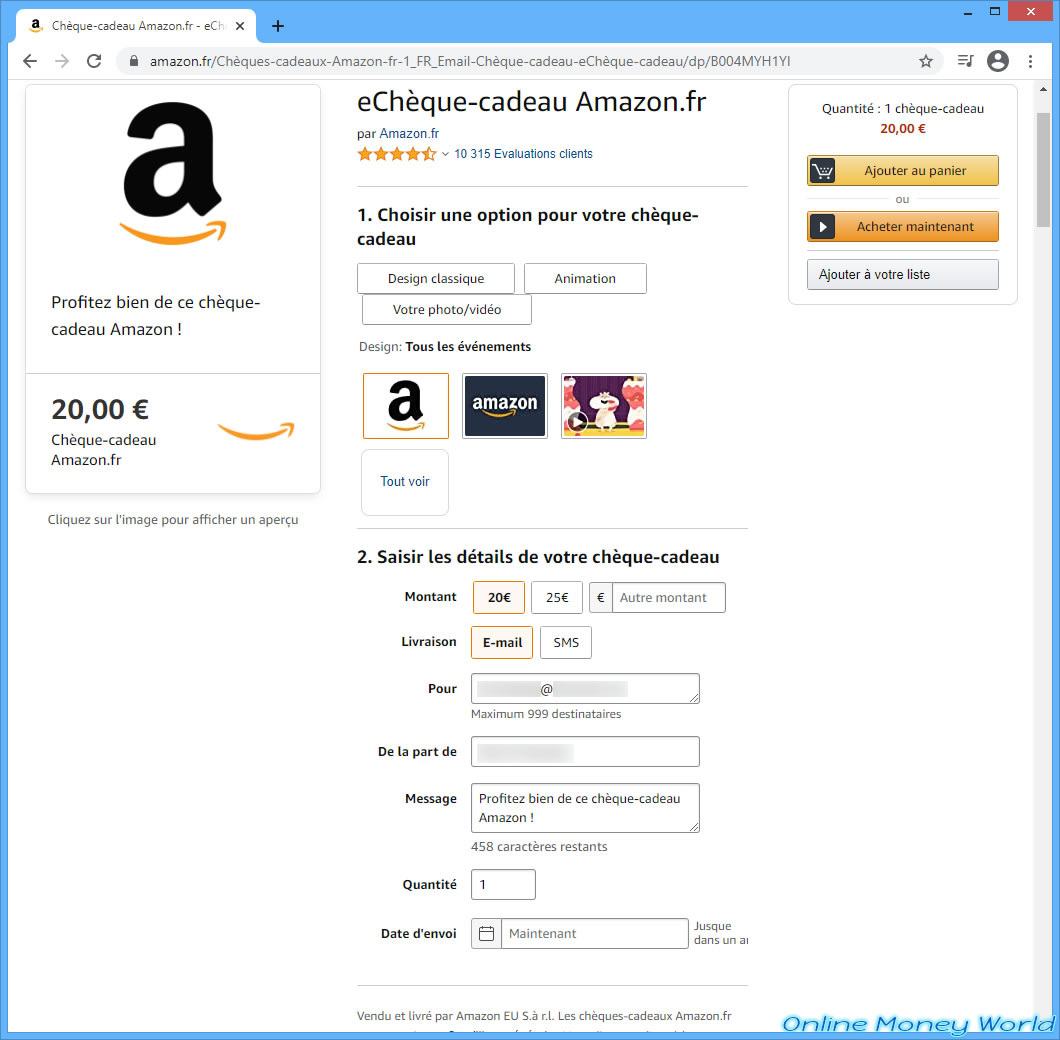 Provide your Amazon password if it asks you to.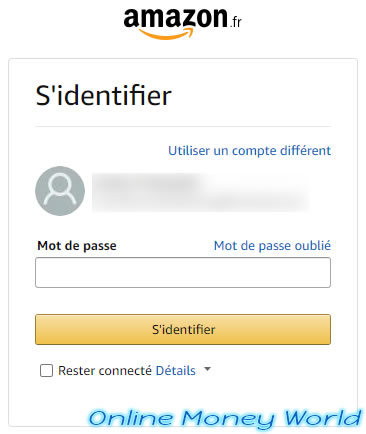 Click on the "Add a credit or debit card" button.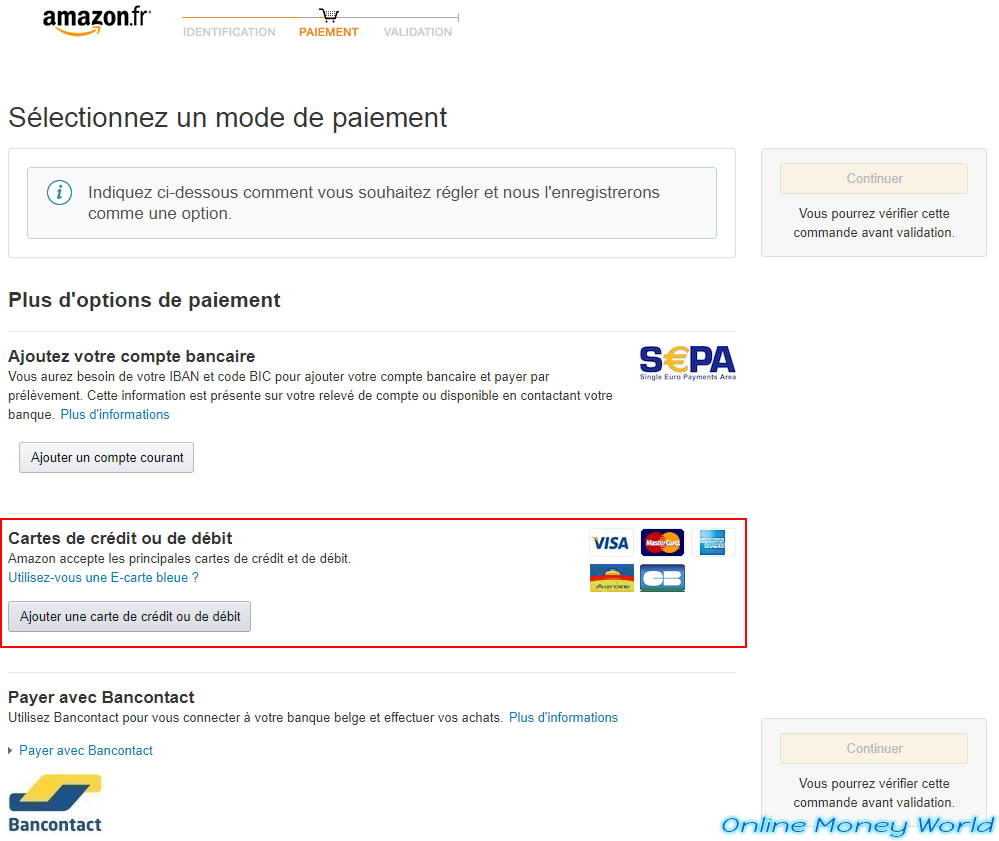 Specify :
the card number = card number of your prepaid virtual Mastercard card provided by Prepaid Digital Solutions
the name on the card = the first name and last name you indicated in your profile on the Prepaid Digital Solutions website
expiration date = the expiration date of your virtual prepaid Mastercard
security code (CVV) = the 3-digit CVV code supplied with your virtual prepaid Mastercard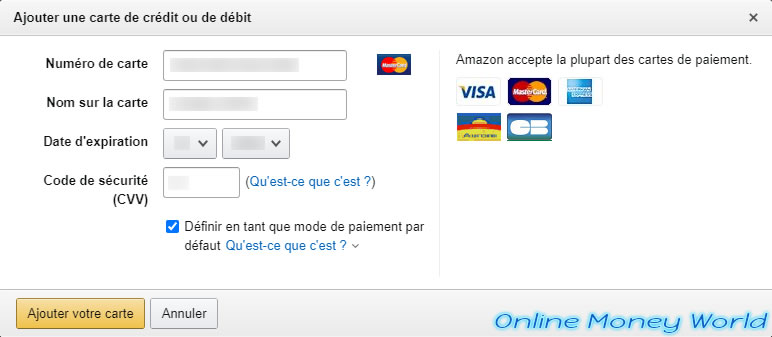 Once the card has been added, select the currency of your card.

Once the currency of your Mastercard has been selected, click on the "Continue" button.

If Amazon asks you to add a billing address, add it.
Specify your real postal address to prevent payment from being refused in case Amazon checks that this address matches the one associated with the Mastercard card used.
However, nothing will be sent to your physical address as the Amazon.fr Electronic gift card will be sent by email.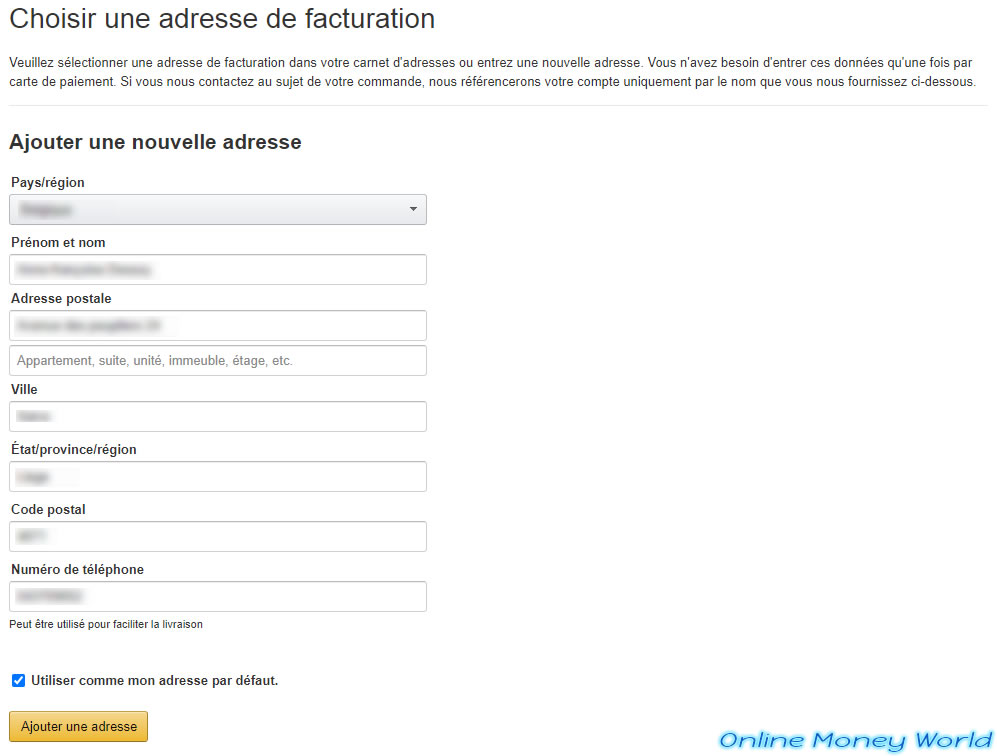 Then, click on : Use this address.

As Amazon tells you, digital delivery takes between 5 minutes and 24 hours.
Click on : Buy.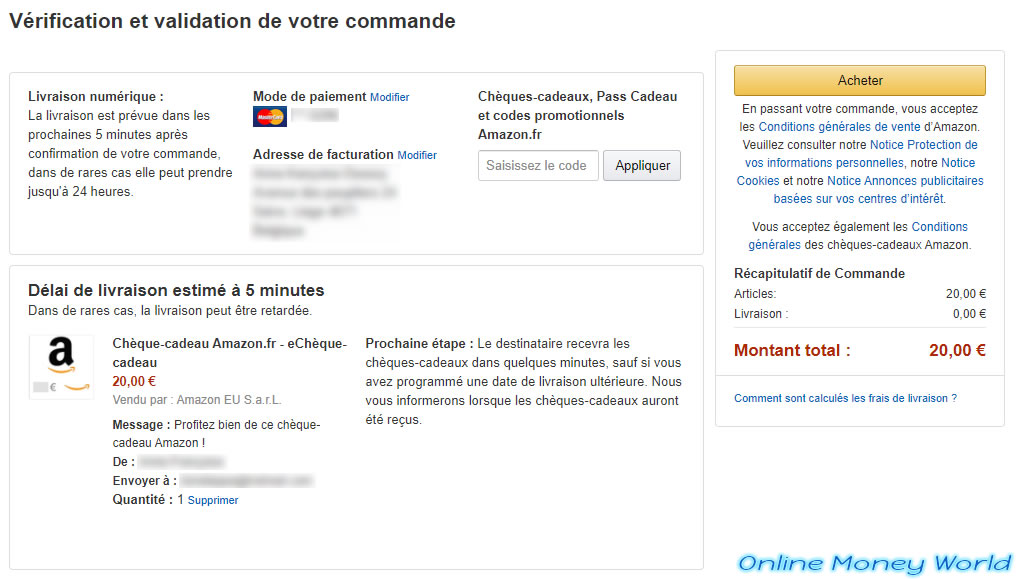 The order of the Amazon gift card is validated.

Amazon.fr will send an order confirmation to the email address linked to the Amazon account with which you purchased your Amazon gift card.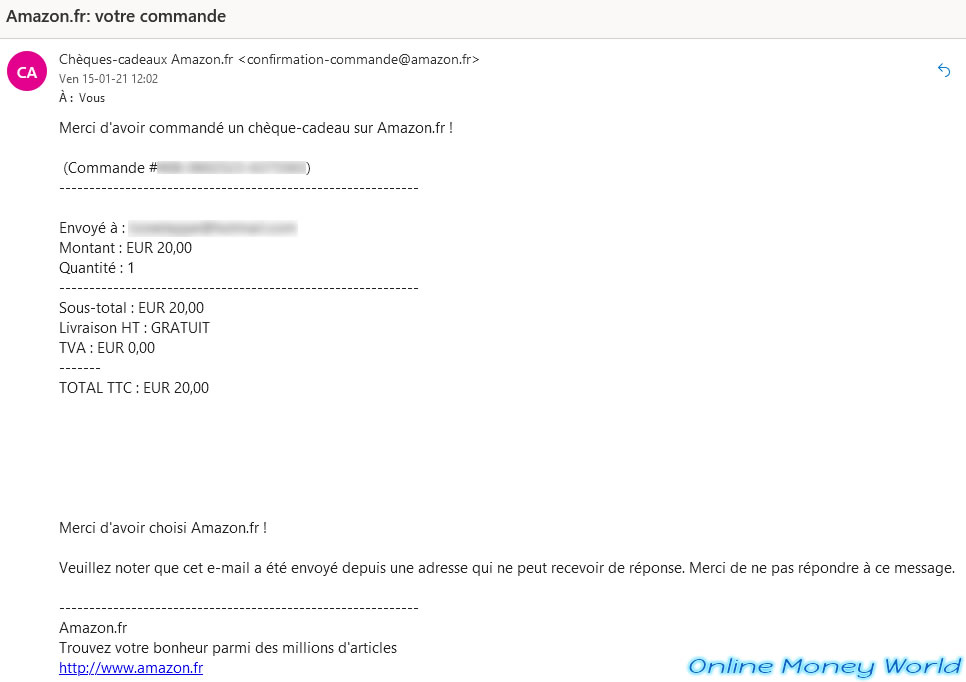 And the recipient will receive their electronic Amazon gift card within a maximum of 24 hours.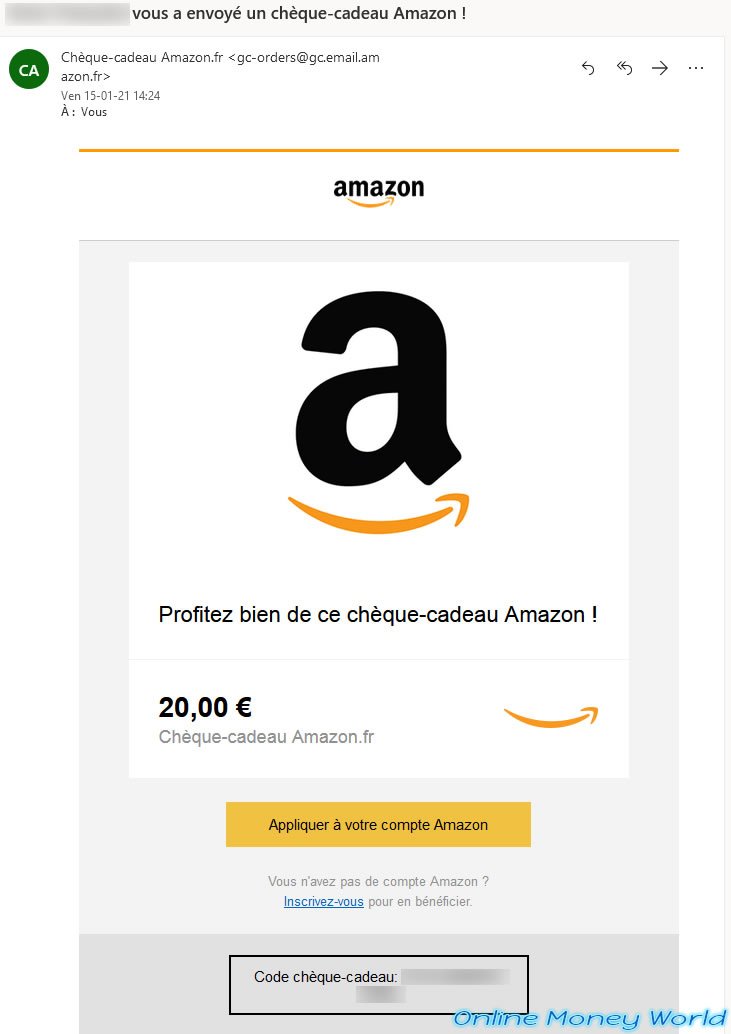 2. Transactions made with your virtual prepaid Mastercard
If you return to the Prepaid Digital Solutions site, your balance may still be available for the moment.
Wait a few hours and return to this site.
Once the balance has decreased, click on the "Transactions" button of your "Virtual Card".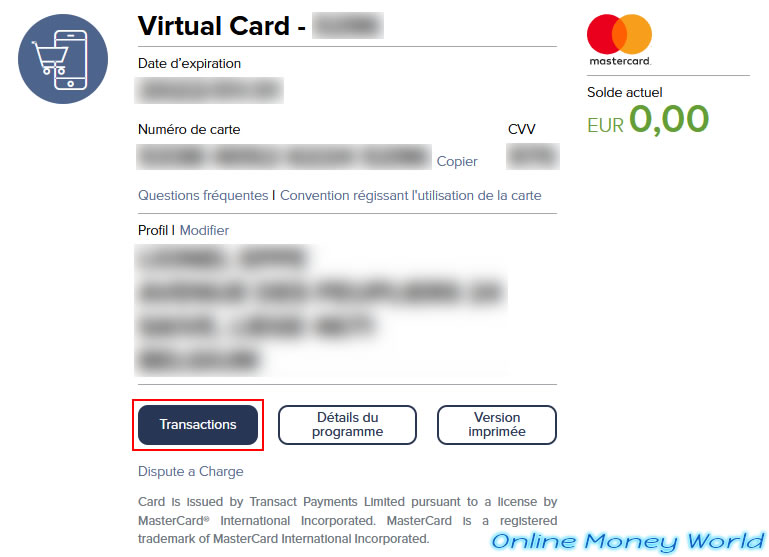 Here, you will see that there are 2 transactions that have been made for this card :
AMAZON.FR : the merchant site where you bought a gift card (or something else)
VALUE ADJUSTMENT : the money that has been added to your virtual prepaid Mastercard using one or more tokens