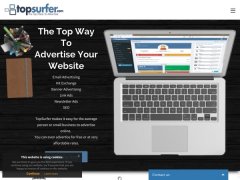 TopSurfer

Description
TopSurfer is an English autosurf that allows you to promote your English site easily and for free.
Currently, a hundred sites are in this manual autosurfing.
You will also find hundreds of promotional emails that will allow you to earn additional credits by visiting the websites of other TopSurfer members.
For those who wish to promote their site or promote paid sites, you can buy advertising credits to :
send emails to TopSurfer members
promote the banner of your site
send newsletters to TopSurfer members
promote text links
promote your site in autosurf without using the autosurf yourself
Other infos
Site created in 2001
Country where the server is located :
Payments
Payment from 10 $
You can be paid via :
- Coinbase
- crypto : Bitcoin, Litecoin and Ethereum
- Solid Trust Pay
Payment processors available
Latest payment's proofs
No payment proof available for this site
Referral program
Referral on 1 level : 100 credits + 0,10 $
You earn 100 advertising credits + $ 0.10 (if your referral activates his account and he visits at least 20 sites in the manual autosurf of the site).
Review published on 12 January 2019 UTC by mondegains