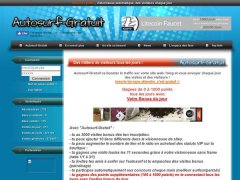 Autosurf-gratuit.fr


Description
Autosurf-gratuit is a French autosurf existing since 2012 which has already generated 5694760 visits since its opening.
On this autosurf, you can promote up to 10 links in the autosurf (viewer without frame) or promote your site or a video with the Video/Blog star feature.
To promote your links, it will first be necessary to obtain credits.
For this, you will be able to :
Use the daily bonus to earn up to 1000 points per day.
Post propos of your contests earnings on Netbusinessrating and get 500 credits per comment per day.
Get between 100 and 1000 points per connection per day.
The ratio of this autosurf varies between 1:1 and 3:1 and each visit as a timer of 11 seconds. But, these values ​​can be improved thanks to paid VIP status.
At registration, you will receive 3000 bonus visits.
Other infos
Payments
Latest payment's proofs
No payment proof available for this site
Referral program
Referral on 5 levels : ? %
Your referrals will need to visit at least 20,000 sites to be considered active.
Our opinion
Good French autosurf used by more than 700 members and generating thousands of visits per day.
Note : 3 / 5
Review published on 25 December 2017 UTC by mondegains