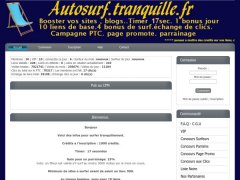 autosurf-tranquille


Description
autosurf-tranquille is a French autosurf based on the Paleno script that exists since September 15, 2015.
Earn credits
On autosurf-tranquille, you will find :
an automatic autosurf with a ratio of 0.8 credit per visit.
a PTC with over 140 paid clicks (20 credits / click). This makes it easy to earn 2800 credits per day with the PTC.
a PTS with more than 50 paid registrations for other autosurfs, PTPs, PTCs and advertising agencies. Each registration is paid 3000 credits
a promotion page to obtain 3 credits per IP per 5 minutes with a timer of 14 seconds.
3 daily bonuses to earn : between 50 and 100 credits, between 100 and 150 credits and 1 last bonus that you can validate if you visit at least 50 sites with the autosurf.
4 daily surf bonuses to get 1800 additional credits if you visit at least 2000 sites with the autosurf.
In addition to these standard features, you will also find :
a loyalty card for the PTC which will allow you to automatically earn 50 additional credits every time you make 10 clicks in the PTC.
a super godfather system which allows you to earns 10% of credits earned by members during 7 days. Except, if another member wishes to become a super godfather during this period.
Promote your blog or website
To promote your website, you will have several possibilities :
add your site in the autosurf.
add the banner of your site in the PTC.
promote the banner of your site on autosurf-tranquille by goint to the "Pub au CPM" section.
Contests
The monthly contests available on autosurf-tranquille are :
surfers contest : earns up to 5000 additional credits
sponsors contest
promo page contest: earns up to 3000 additional credits
clicks contest : earns up to 3000 additional credits
Statistics
Currently, autosurf-tranquille is used by 30 members and has already generated :
more than 220 000 visits per month
more than 8 million visits in total
and currently, approximately 8450 visits per day.
Other infos
30 members

Type : Automatic

Ratio : 1:0.8

0.8 credit(s) / 17s

Option : IP filter

Earnings : PTC, PTS, daily bonus, grid

Advertising via : PTC, CPM

Contests : surf, sponsor, PTC, PTP

Script used : Paleno (Valid license)

Site created in 2015
Country where the server is located :
Payments
You can get codes for free in their store :
- AW-Code
- Bubulle Pass
- Top Code A
Latest payment's proofs
Referral program
Referral on 1 level : 15%
Articles
Get French visitors quickly, earn money from your PTP pages and get visibility with the PTC available on autosurfs using Paleno's script
Our opinion
Good complete French autosurf which currently generates + 3000 visits per day and which allows you to obtain free codes for other sites.
Note : 5 / 5
Access the site

Review published on 20 November 2017 UTC by mondegains