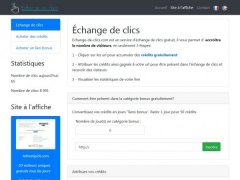 Echange-de-clics.com

Description
Echange de clics is a traffic exchange site without registration that allows you to promote your website in 3 steps :
click on the links added by other members
assign the credits to your links
get statistics about visitors sent on your website
Since this site is without registration, it's based on your IP address to identify you.
For receive more visitors, it's possible to add your website in the bonus links section. Indeed, these are displayed at the top of the page, because they worth credits.
Finally, it's possible to buy credits and private advertising from € 1,5 only.
Other infos
Type : Manual

Country where the server is located :
Payments
Latest payment's proofs
No payment proof available for this site
Review published on 07 September 2019 UTC by mondegains