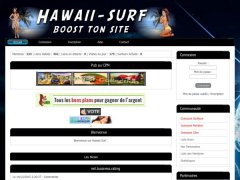 Hawaii-Surf


Description
Hawaii-Surf is a French traffic exchange site created in 2015 and that is based on the Paleno's script.
Earn credits
On Hawaii-Surf, you will find :
an automatic traffic exchange system with a ratio of 0.5 credits per visit.
a PTC with paid clicks (20 credits per click)
a PTS with paid registration (up to 1000 credits per site)
a PTP page to earn 1 credit per IP per 5 minutes with a 10-second timer.
a free grid to win up to 250 credits per day.
a daily bonus to earn between 20 and 200 credits per day.
Promote your blog or website
To promote your blog or website, you will have several possibilities :
add your blog or website in the traffic exchange system.
Note that you can add up to 10 sites.
add your site in the PTC (10,000 credits = 500 clicks).
promote the banner of your site directly on the site of Hawaii-Surf via the CPM ads.
Contests
On Hawaii-Surf, you will also find :
a surfers contest to win up to 10000 credits
a sponsors contest
a clicks contest to win up to 10000 credits
Other infos
196 members

Type : Automatic

Ratio : 0.5:1

0.5 credit(s) / 20s

Earnings : PTC, PTS, daily bonus, grid

Advertising via : PTC, CPM

Contests : surf, sponsor, PTC

Site created in 2015
Country where the server is located :
Payments
No payment
Latest payment's proofs
No payment proof available for this site
Referral program
Referral on 1 level : 20%
Articles
Get French visitors quickly, earn money from your PTP pages and get visibility with the PTC available on autosurfs using Paleno's script
Our opinion
One of the best French autosurfs based on the Paleno script.
Note : 5 / 5
Access the site

Review published on 17 August 2017 UTC by mondegains