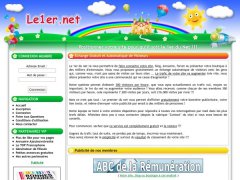 Le1er.net


Description
Le1er is a old French traffic exchange site created in 2008 and still exists today.
Promote your site
With this site, you will be able to promote your site :
in the automatic autosurf
with the display campaigns (8000 credits = 100 000 displays of your banner on the site)
with the click campaigns (8000 credits = 200 unique visitors on your site)
Earn credits
To earn credits on Le1er, you will need :
to use the surf bar.
to click on the banners available in the "Win credits" section. (20 credits per click).
to validate the daily bonus (between 20 and 100 credits per day).
to try to win the monthly sponsorship contest (40,000 credits to be won).
to try to win the weekly surfing contest (up to 1000 credits for the 1st member).
Monthly bonus : 100 credits
Other infos
21058 members

Type : Automatic

Site created in 2008
Country where the server is located :
Payments
No payment
Latest payment's proofs
No payment proof available for this site
Referral program
Referral on 1 level : 10% + 100 crédits
You earn 10% of credits earned by your referrals + a bonus of 100 credits per referral.
Our opinion
Good French traffic exchange site
Note : 4 / 5
Access the site

Review published on 17 August 2017 UTC by mondegains