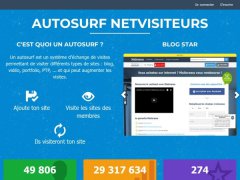 Netvisiteurs


Trusted site recommended by Online Money World
Description
Netvisiteurs is one of the oldest French autosurfs that still exists today and offers several features :
a viewer usable from any web browser (except if you agree to also view the PTP pages, in this case you will need to use Mozilla Firefox).
a viewer that can be used via an external application created by Netvisiteurs.
This avoids making your web browser unstable.
promote your banners on the site. Each display costs 0.5 credit.
blog star : allows you to display your site on the homepage
connection text : allows you to promote your site on the Netvisiteurs login page.
Daily bonuses : 10 bonus per day that you can validate according to your activity.
These bonuses will allow you to earn up to 4682 additional credits per day.
In your Netvisiteurs account, you can choose the types of sites you want to see in the viewer :
adult
PTP
site with popup
site without popup
site with sound
Finally, with the Visio Application of Netvisiteurs, you can surf at the same time from several IP addresses.
The delay of each visit is between 8 and 165 seconds and allows you to win between 1 and 11 credits per visit (depending on the length of the visit).
Other infos
47901 members

Type : Automatic

5 credit(s) / 10s

Option : IP filter

Advertising via : CPM

Site created in 2008
Country where the server is located :
Payments
No payment.
Latest payment's proofs
No payment proof available for this site
Referral program
Referral on 1 level : 12%
You earn 12% of the credits earned by your referrals.
Our opinion
Un des plus vieux autosurfs français et le seul qui accepte le surf multi-ip.
Note : 5 / 5
Access the site
Review published on 17 August 2017 UTC by mondegains