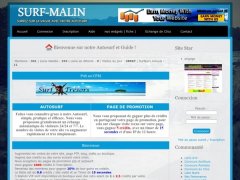 Surf-Malin


Trusted site recommended by Online Money World

Trusted

3 payment proofs
Description
Surf-Malin is a French autosurf based on the Paleno script that stands out from the others by proposing additional features.
As on other autosurfs using the Paleno script, you can earn credits :
by using autosurf
by making clicks in the PTC
by clicking in the "Echange de clics" section
by validating the daily bonus (between 10 and 250 credits per day)
by validating up to 4 daily surf bonuses (depending on your activity on the autosurf)
by registering on other sites proposed in the PTS
by validating your raffle tickets (Tomboclic) obtained by clicking in the PTC (1 click = 1 free ticket = earnings between 10 and 100 credits)
by trying your luck on the free grid to win up to 250 credits in 1 click
Note that clicks made in the PTC will also allow you to complete your PTC fidelity card. This allows you to automatically get 50 additional credits each time you make 10 clicks in the PTC.
On Surf-Malin, you will also find offerwalls to earn additional credits : ClixWall, PTCWALL and KingWall.
Finally, you will also find the usual advertising options :
Other infos
361 members

Type : Automatic

0.5 credit(s) / 15s

Option : IP filter

Earnings : PTC, PTS, links exchange, daily bonus, grid

Advertising via : PTC, CPM, links exchange

Contests : surf, sponsor, PTC

Script used : Paleno (Valid license)

Country where the server is located :
Payments
Payment from 5 €
You can :
- be paid from 5 €
- get codes for Codeotop or Banditland in the codes shop

Note that this code shop is an exclusivity offered by Surf-Malin, since no other French autosurf using the Paleno script offers it.
Latest payment's proofs
Referral program
Referral on 1 level : 10 %
Articles
Get French visitors quickly, earn money from your PTP pages and get visibility with the PTC available on autosurfs using Paleno's script
Our opinion
My favorite autosurf of the moment which uses the Paleno script and which offers many features and codes in shop
Note : 5 / 5
Access the site

Review published on 18 November 2018 UTC by mondegains