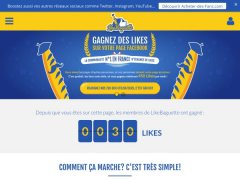 Likebaguette


Description
LikeBaguette is a site specialized in exchanging likes for Facebook pages and existing for several years.
To avoid problems with Facebook, LikeBaguette allows you to do 15 likes per day.
Then, you can get likes on your Facebook pages.
Note that it's possible to automatically allocate the winning credits on your different Facebook pages to automatically receive them.
When you have done 100 likes via LikeBaguette, you will benefit from 5 free likes offered by the site.
Supported social networks
Other infos
2789 members
Country where the server is located :
Payments
No payment
Latest payment's proofs
No payment proof available for this site
Referral program
Referral on 1 level : 10% < 30%
Depending on the number of referrals recruited, you will gain more and more likes :
- 10% of likes from 1 referral recruited
- 20% of likes from 20 referrals recruited
- 30% of likes from 100 referrals recruited
Our opinion
Good site of likes exchange for the Facebook pages.
Note : 5 / 5
Access the site

Review published on 17 August 2017 UTC by mondegains