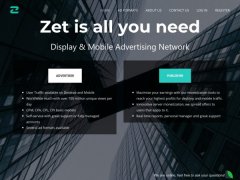 ZetAds


Description
Zetads is an ad network based at Seychelles generating traffic on computer and mobile. This ad network target the world with more than 100 million unique views per day.
This ad network uses advertisements paid CPM (cost per 1000), CPA (cost per action), the (cost by lead) and ICC. In addition, it offers multiple formats.
Note that ZetAds offers 3 types of script for display advertisements on your website :
the standard JavaScript code
the JavaScript code which is anti-adblock
a PHP code to generate dynamically the anti-adblock JavaScript code updated to work around Adblock
Other infos
Site created in 2016
Country where the server is located :
Payments
Payment from 100 $
Payment processors available
Latest payment's proofs
No payment proof available for this site
Referral program
No sponsorship program
Our opinion
Payment threshold too high and company (offshore apparently) based in Seychelles. Which doesn't inspire me confidence.
Note : 1 / 5
Access the site
Review published on 09 March 2019 UTC by mondegains