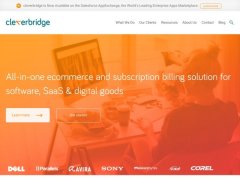 cleverbridge

Description
cleverbridge is a German affiliate platform created by cleverbridge AG.
cleverbridge works with many B2C and B2B companies, including companies specializing in IT :
Avira : an anti-virus
Ashampoo
Finalwire : company that created AIDA64 (which is a software allowing you to know better your computer)
Malwarebytes : an anti-malware, an anti-exploit, ...
Nero : the famous burning software of the same name
Raxco software
Companies working with cleverbridge use this affiliate platform to convert a maximum number of customers (in other words : sell them a product or a service), reduce the number of unsubscribers and become known around the world.
With cleverbridge, you will be able to promote the products and services of various well-known companies (such as Malwarebytes anti-malware, Nero's burning software and more).
With cleverbridge, you can also :
manage subscriptions
obtain reports and analyzes about the conversion rate, the number of unsubscriptions, ...
provide a localized experience thanks to currencies used in the visitor's country, for example
get a history of your customers purchases, management of subscriptions renewals, ...
manage your billing and choose how you want to pay or get paid
Other infos
Site created in 2005
Country where the server is located :
Payments
Payment from 100 €
You will be paid on the 16th of each month for the previous month when you have reached the payout.
Payment processors available
Latest payment's proofs
No payment proof available for this site
Referral program
No sponsorship program
Access the site
Review published on 06 August 2019 UTC by mondegains