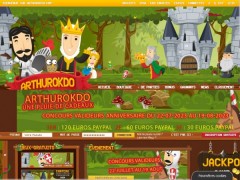 Arthurokdo


Trusted site recommended by Online Money World

Trusted

2 payment proofs
Description
Arthurokdo is a medieval themed free games site with 4100+ members where you will find:
free games: scratch tickets, a fakir game, a mini hanging contest, ...
VIP games: for VIP 1 or 2 members.
betting games: double your bet by finding the right key or find the hidden grail+ on codeotop to win €5.
paying games: games and an enchanting mini contest.
bonus games: a jackpot, a prize grid, ...
challenge games: bet points and try to beat other members.
a cup of clans.
a super king (= super godfather).
On Arthurokdo, you will also find a bonus page with some paid clicks (20 to 30 points per click).
As of now (in 2023), Arthurokdo has already distributed 25,000+ gifts.
Other infos
4123 members
Country where the server is located :
Payments
Payment from 5 €
In store, you will find:
- Amazon gift cards from €5
- Paypal payments from 10 €
- bank transfers and bank checks of €50
- codes for other game sites: Funny code, Alienz+, Top Code B, ...

Warning: you can only order one gift per day.
Payment processors available
Latest payment's proofs
Referral program
Referral on 1 level : 100% > 10%
You earn 100% of your referrals' earnings during the first week, then 10% of their earnings thereafter.
Our opinion
A trusted free games site that has already allowed me to win a code
Note : 5 / 5
Access the site

Review published on 01 November 2023 UTC by mondegains