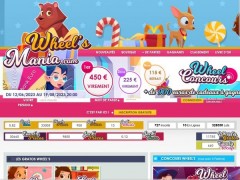 Wheels-Mania

Description
Wheels-Mania is a game site on the theme of the party with in particular a wheel (Wheel in English).
On Wheels-Mania, you can play:
Gratos Wheel's (free games): Big Lollipop, Little Chippie and Cat Reglisse.
Payos Wheel's (paying games): Bar Wouf (mini contest), My bank, ...
Bonus Wheel's: Mi Amor, Jack'Dog, Loto Love, ...
Events Wheel's (event games): Magic Candy, Kid Gourmand, Shoot Cards, ...
Cup Wheel's (mini challenge): Happiness, Cup Arena, ...
You will find a contest validators, a quest, a Mega Wheel's and other features.
The Wheels-Mania site adapts to PCs and smartphones, so you can also play on this site from your smartphone.
Other infos
732 members
Site created in 2018
Country where the server is located :
Payments
Payment from 10 €
Thanks to Wheels-Mania, you can win:
- codes: CaraChallenge, Colt B, TopCode B, AlienZ'+, Graal, ...
- money: Paypal payments from €10 and bank transfers from €20.
- Amazon gift cards from €20
Payment processors available
Latest payment's proofs
No payment proof available for this site
Referral program
Referral on 1 level : 100% > 10%
You earn 100% of your referrals' earnings the first week, then 10% of their earnings for life.
Access the site

Review published on 21 October 2023 UTC by mondegains