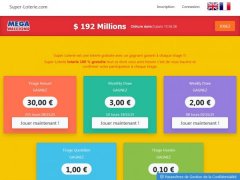 Super-Loterie


Trusted

26 payment proofs
Description
Super-Loterie is a free lottery which allows you to earn money every day with several draws :
hourly drawing allowing you to earn € 0.10
daily drawing allowing you to earn € 1.10
weekly drawing allowing you to earn € 2.5
monthly drawing allowing you to earn € 7
yearly drawing allowing you to earn about € 50
and even a draw to win extra tickets to increase your chances of winning the various jackpots put into play by super-loterie
To participate in these draws, you will get 29 tickets per day and you will also have the opportunity to get more tickets through sponsorship and mining (which allows you to get tickets without doing anything).
These old possibilities being no longer available in the new version of the site :
to paid videos hosted at YouTube
more than 10 paid clicks per day
News 2019 : Super-Loterie is now available in English and in French.
More than 4190 payments have already been sent to Super-Loterie members since opening in 2018.
Other infos
199 members
Site created in 2018
Country where the server is located :
Payments
Payment from 0.01 €
Payment processors available
Latest payment's proofs
View previous payment proofs

Referral program
Referral on 1 level : 10% + 12 tickets
You earn 10% of the earnings of your referrals + 2 tickets per referral who register via your link + 10 additional tickets if it confirms its account.
Our opinion
The counters of some draws block at zero. Weird ...
Note : 3 / 5
Access the site

Review published on 13 October 2018 UTC by mondegains