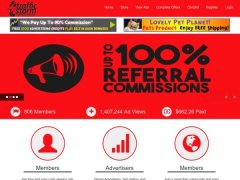 Trafficstorm

Description
Trafficstorm is a GPT that allows you to earn money by clicking on ads, as well as watching paid videos and completing paid offers in different offerwalls : Adscend media, PTC WALL, ...
You will also find a rotating page system (rotator) and paid surveys that can allow you to earn a few dollars easily.
You can also buy advertising packs to promote your website.
Offerwalls available
Fly over the logo of an offerwall to get more information about it.
Other infos
Country where the server is located :
Payments
Payment from 1 $
Payment from $ 1 via :
- Paypal : 5% fee
- Bitcoin : 20% fee
Payment processors available
Latest payment's proofs
No payment proof available for this site
Referral program
Referral on 1 level : 10%
Articles
GPTs (Get Paid To) are paid sites where you are paid to complete free offers, but also paid surveys.

GPT (Get Paid To)
01/05/2018 à 12h02
Review published on 11 January 2019 UTC by mondegains