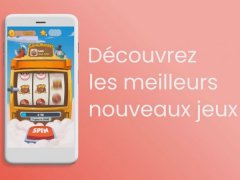 App Flame


Description
App Flame is a mobile application using the AppLike script and which allows you to earn some money or gift cards by testing new mobile games.
Among the games offered, you will find for example : Dragon City, Township, Tasty Town, ...
By playing these new mobile games, you will earn coins after some seconds, some minutes, then some hours.
The small disadvantage is that after a while, the compensation offered will become quite low. In this case, simply go to the next mobile game to get acceptable compensation again after a few seconds, then minutes, and so on.
Other infos
1000000 members

Script used : Applike

Country where the server is located :
Payments
Payment from 10 €
You can be paid via PayPal or get Zalando gift cards from € 10.
Payment processors available
Latest payment's proofs
No payment proof available for this site
Referral program
Referral on 1 level : 25% / 25%
You earn 25% of the coins obtained by your referrals.
And as a referral, you also get 25% of the coins obtained by your sponsor.
Our opinion
Payout to high for this type of application.
Note : 2 / 5
Access the site
Review published on 28 May 2020 UTC by mondegains