Google Opinion Rewards


Trusted

23 payment proofs

|

€0.5 / month
Description
AJOUTER LES IMAGES
Google Opinion Rewards is an official mobile app created by Google which is currently used by more than 10 million users on Android and more than 25 800 users for iOS.
At 1st start of Google Opinion Rewards, the application recommend you to activate GPS your smartphone. Indeed, this application will analyze your travel to offer you surveys based on places you visit.
In other words, if you travel a lot and leave the GPS feature enabled on your smartphone, you can answer more surveys and thus earn more money.
In addition, surveys provided by this application does not take more than 20 seconds (in general, you will need to respond to only 3 questions).
If you are using the Android version of this mobile app, your reward will be automatically credited in your Google Play account.
Other infos
10000000 members
Site created in 2017
Country where the server is located :
Payments
For the Android version :
Your reward is automatically credited in your Google Play account.
This will allow you to buy games or apps in the Play Store or to buy items in Android apps or games (in-app purchases).

For the iOS version (Apple) : you can be paid via PayPal from $ 1
Payment processors available
Latest payment's proofs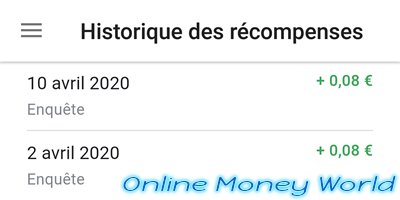 View previous payment proofs

Referral program
No sponsorship at the moment.
Our opinion
Little surveys, but it pays (since it was created by Google) and allows you to buy free games in the play store or some bonuses (in-app purchases) in some Android applications.
Note : 3 / 5
Access the site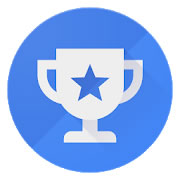 Review published on 28 May 2018 UTC by mondegains