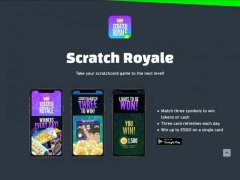 Scratch Royale


Description
Scratch Royale is a paid app created by Viker in June 2019.
Once the application is installed, use the "576582856548504" code to obtain 100,000 tokens.
Scratch Royale allows you to earn money by scratching 25 scratch cards 3 times a day + 5x5 scratch cards while watching an ad after having scratched the 25 cards (each time the cards are reset to 0, so 3 times a day). New scratch cards are available every day at 10 a.m., 4 p.m. and 10 p.m.
Positive point : each card is a winner.
Note that there is a "Achievements" section allowing you to earn additional points depending on your activity on this mobile application (x scratched cards, by following them on social networks, ...).
Important : you must be at least 18 years old (or 17 years old with the consent of your parents) to use this mobile application.
Other infos
100000 members
Site created in 2019
Country where the server is located :
Payments
Payment from 5 €
Payment processors available
Latest payment's proofs
No payment proof available for this site
Referral program
Referral on 1 level : 100000
100,000 tokens for the referral AND for the sponsor with the sponsorship code : 576582856548504
Our opinion
A good mobile app to easily earn money by scratching free scratch cards 3 times a day
Note : 4 / 5
Access the site

Review published on 31 May 2020 UTC by mondegains