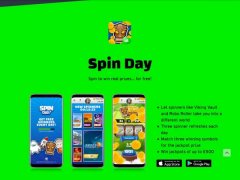 Spin Day


Description
Spin Day is a mobile application created by Viker which allows you to earn money by trying your luck on slot machines (12 for free + 3x3 slot machines with 5 chances for each by watching an advertisement).
Once the application is installed, use the "0584876915719098" code to obtain 100,000 tokens.
3 times a day, the number of slot machines is reset as well as the button to get 3x3 additional slots again by watching ads.
As you will quickly understand, it's enough to obtain 3 identical symbols to earn money or points (exchangeable for money) for free every day.
For the slot machines available, you will find :
Egyptian Escape
Catatonic Kitten
Sushi Samurai
Volcanic Venture
and more
To be able to use this application, you must be at least 18 years old.
This app is available for Android and iOS.
Other infos
1000000 members
Site created in 2019
Country where the server is located :
Payments
Payment from 5 €
Payment within 3 business days
Payment processors available
Latest payment's proofs
No payment proof available for this site
Referral program
Referral on 1 level : 100000
The godfather AND the referral earns 100,000 tokens with the following sponsorship code : 0584876915719098
Our opinion
A nice app to earn some money by playing on your smartphone
Note : 3 / 5
Access the site
Review published on 02 June 2020 UTC by mondegains