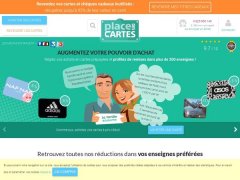 Place Des Cartes


Trusted site recommended by Online Money World
Description
Place Des Cartes is a site managed by the ALESA SAS company which allows you to buy gift cards (gift vouchers) at a lower price.
Thanks to Place Des Cartes, you will be able to :
buy cheaper gift cards
resell gift cards won on paid sites or through contests, but which you don't need
Place Des Cartes therefore allows you to save money if you are looking for cheaper gift cards.
But, this site can also allow you to convert a gift card (for a known site) into real money.
The gift cards available on Place Des Cartes are valid in more than 200 stores.
The gift cards offered are divided into different categories :
Food and drinks : Auchan, Carrefour, E.Leclerc, Cora, ...
Baby and children's fashion : La redoute, Nature et découvertes, Zalando, ...
Jewelry and watches : E.Leclerc, Galeries Lafayette, ...
Cosmetics and beauty : Sephora, Yves Rocher, Zalando, ...
Image, sound and household appliances : Conforama, Deezer and La redoute
Garden, DIY and animals : Bricorama, Conforama, Nature et découvertes, ...
Home and decoration : Ikea, Maison du monde, ...
Women's fashion : ASOS, IKKS, Reebok, ...
Men's fashion : Adidas, Cyrillus, Gémo, ...
Cultural products and games : Netflix, Nintendo eShop, Sony PlayStation Store, Sony PlayStation Plus, Spotify, ...
Sport, leisure and travel : lastminute, Parc Asterix, Wonderbox, ...
Note that a loyalty program (visible in your "Place Des Cartes" account) allowing you to earn 10 points for every 1 € saved.
Thanks to these points, you will be able to obtain coupons of :
€ 5 for 500 loyalty points
€ 10 for 980 loyalty points
€ 20 for 1900 loyalty points
€ 50 for 4600 loyalty points
Other infos
117096 members
Site created in 2014
Country where the server is located :
Payments
Payment processors available
Latest payment's proofs
No payment proof available for this site
Referral program
Referral on 1 level : 5 € / 5 €
You earn 5 € as a sponsor when the referral has spent at least 100 € on Place Des Cartes.
You earn 5 € as a referral if you place one order of at least 100 €.
Our opinion
A good site to resell gift cards received at Christmas or won through contests or paid sites.
Note : 5 / 5
Access the site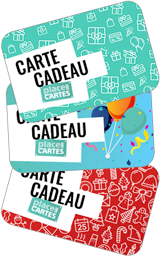 Review published on 28 December 2021 UTC by mondegains