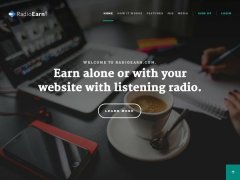 RadioEarn

Description
RadioEarn is a site that, as its name suggests, allows you to make money by listening to the radio.
Every 15 minutes, you will earn points redeemable for Paypal payments.
This site even offers a very easy-to-use API that allows webmasters to earn money by adding RadioEarn radios directly on their website.
Thus, they can earn money thanks to their own visitors who listen to these radios.
RadioEarn is accessible from more than 35 countries, including the United Kingdom, United States and the Russian Federation.
Other infos
12765 members
Site created in 2017
Country where the server is located :
Payments
Payment from 5 $
Payment processors available
Latest payment's proofs
No payment proof available for this site
Referral program
Referral on 3 levels : 5% / 2% / 1%
You earn a percentage of the earnings of your referrals on 3 levels :
- 5% for direct referrals (level 1)
- 2% for sub-referrals (level 2)
- 1% for the level 3
Review published on 12 November 2018 UTC by mondegains