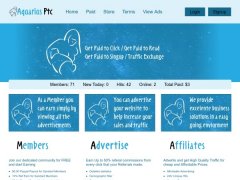 AquariusPtc


Description
AquariusPtc is a PTC that allows you to earn money by clicking on links, but also by reading paid emails that the site will send you.
Note that paid emails can be enabled or disabled in your AquariusPtc account.
You can also try your luck on the grid to try to win up to $ 0.50 per click.
You will also be able to promote websites by adding them to AquariusPtc's built-in autosurf.
Finally, you will also find a "Paid registrations" section, but this one is currently empty.
Other infos
Payments
Payment from 0.5 $
Payment processors available
Latest payment's proofs
No payment proof available for this site
Referral program
Referral on 1 level : 10%
Our opinion
You must buy a paid status to be able to withdraw your winnings
Note : 1 / 5
Review published on 11 December 2018 UTC by mondegains