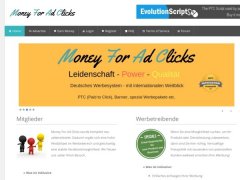 Money-ForAdclicks

Description
Money-ForAdclicks is a German PTC whose 99% of the site is available in English and which allows you to earn money by clicking on a dozen links per day.
You can also earn up to $ 0.50 per registration through the Paid To Signup Offers section.
If you want to earn money passively, you can try to rent referrals from $ 0.17 per referral or by buying advertising.
The advertising packs available on Money-ForAdclicks are :
clicks via the PTC
display your site when other members login on the site
banners promotion in 468x60 format
paid registrations to easily recruit referrals
sponsored links
and more
Other infos
11 daily clicks
Site created in 2010
Country where the server is located :
Payments
Payment from 5 €
You can be paid via:
- CoinsPayments
- PayPal
- Payza
- Perfect Money
- Solid Trust Pay
Payment processors available
Latest payment's proofs
No payment proof available for this site
Referral program
Referral on 1 level : ? %
Review published on 23 December 2018 UTC by mondegains