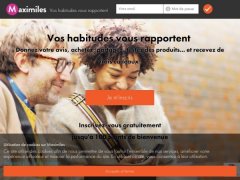 Maximiles


Description
Maximiles is a loyalty program created by Bilendi Technology (formerly Maximiles Group) which allows you to earn points by making purchases on the Internet or by performing other specific actions.
In 2017, Bilendi also bought the Belgian survey site : iVOX.
On Maximiles, you can earn points :
by making purchases on the Internet through the links proposed by Maximiles.
depending on the money spent on partner sites, you will earn a number of points exchangeable afterwards for gifts.
In other words, it's a cashback system, except that the remunerations are credited in points on your Maximiles account.
by completing paid surveys of Maximiles Panels.
Each survey is paid up to 500 Maximiles.
by completing your Maximiles profile.
This action allows you to earn up to 240 Maximiles.
by reading the paid emails sent by Maximiles.
Each e-mail is paid 5 points.
by recruiting new members
by consulting the "easy points" offers : write reviews, paid registrations, ...
Signup bonus : 125 Maximiles
For your birthday, you will receive a bonus of 50 Maximiles.
Other infos
Site created in 2000
Country where the server is located :
Payments
In the shop, you will find gifts in different categories :
- gastronomy
- high-tech
- Hobbies
- House
- pleasure
- press and books
- solidarity
- special summer
Latest payment's proofs
No payment proof available for this site
Referral program
Referral on 1 level : 1000 Maximiles
The godfather and the referral get 1000 Maximiles when the referral reaches 1000 points by answering the surveys of 1000 Maximiles.
Our opinion
Loyalty scheme for obtaining gifts
Note : 3 / 5
Access the site

Review published on 17 August 2017 UTC by mondegains