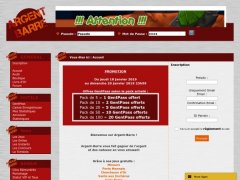 Argent-Barre

Description
Argent-Barre is a paid bar that allows you to make money by launching a surf bar on your computer.
To earn a few extra euros, Argent-Barre also offers games, grids, winning moments, a raffle, as well as various contests.
You will also be able to use the bonus section with paid clicks, sponsorship and paid status, including VIP status.
At the moment, Argent-Barre is still used by almost 3000 members and about 900 orders have already been processed.
Other infos
Payments
Payment from 25 €
You can be paid via Hipay and PayPal.

In shop, you will find advertising campaigns, the ability to make a donation to telethon or get codes for other sites :
- ALIENZ++
- AW CODE
- BUBULLE PASS
- CHEYEN-CODE
- CLAPCODE ++
- CLICKBIZ PASS and CLICKO PASS
- CLICKOMAX
- TOPCODE B
- and more
Payment processors available
Latest payment's proofs
No payment proof available for this site
Referral program
Referral on 1 level : 10%
You earn 10% of your referrals earnings and up to 100% depending on your VIP status.
Access the site

Review published on 27 January 2019 UTC by mondegains