AWBarre is a trusted paid bar created in 2007 by the Kadrimex S.A.R.L company who pays you for :
run a paid bar on your computer
play free games
complete quests
play flash games
respond to surveys
VIP : scratching tickets
gold members : play additional games, complete other quests, ...
clans : play the 2 games reserved for the clans.
Paid bar
In the "Download" section of AWBarre, you will find the AW-Manager program.
As you can see, this program offers a paid bar, but also other options :
Mon clan : to manage everything related to the clan you are in.
Zone peer : allows you to easily earn points by sending data to Kadrimex S.A.R.L. (The company that created the site and paid bar of AWBarre).
Zone barre : to open the paid bar. Check the "Automatic start" box and then click on the square button to launch the paid bar.
Mes bonus : allows you to see the history of bonus banners that have appeared on the bar.
Mes jeux : allows you to play the games of AWBarre. (Requires Adobe Flash Player for Internet Explorer on Windows XP/Vista/7)
Consommation : provides statistics about CPU and RAM usage by this program.
Reglages : allows you to choose where notifications should be displayed and reset the manager (if required).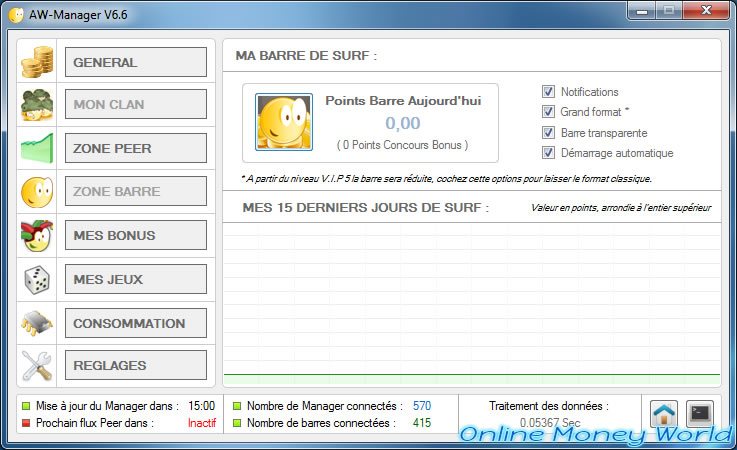 Here is an overview of the paid bar.
All 250 banners displayed on the bar, you will receive a free scratch ticket to earn extra points.

Preview of a bonus banner :

Once click, don't forget to validate this bonus via the page that will have opened in your web browser :
And a preview of the peer zone.
Simply check the box to enable this feature and start earning points seamlessly.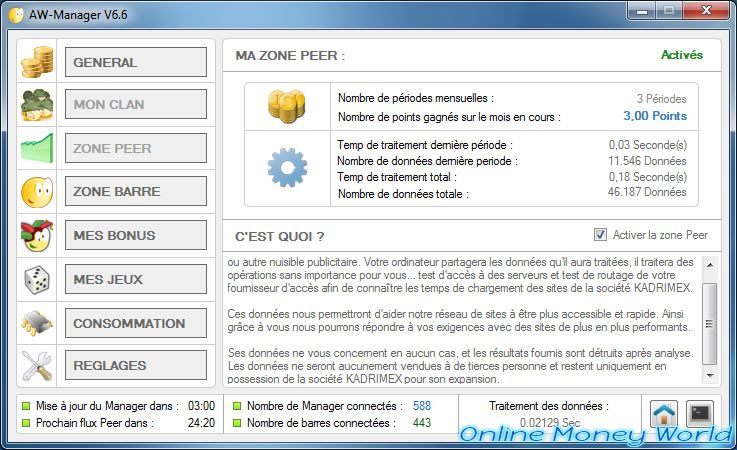 Contests
On AWBarre, you will also find some contests :
AW-Code contest : the 30 members who validate the most AW-Code will win AW-Codes, surf tickets and points.
Concours Barre : The more active you are on the bar, the more AW-Codes or points you will earn.
Monthly Bonus Contest : The more bonus banners are validated on the bar, the more points you will earn if you make the first 30 members of the ranking.
Other monthly contests
A Gold Membership Contest.
3 competitions clans
Points convertion and update
Points earned with the paid bar are updated every 10 minutes.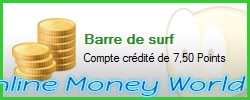 The conversion of points into euros always takes place on the last day of the month between 23:30 and 00:30.
Currently, AWBarre has already distributed 46,905 codes to its members.
Warning : only French-speaking members are allowed.
That said, all countries are allowed.