The FDJ is the official site of La Française des jeux and it allows you to play online to the Lotto, Euromillions ... if you reside in France.
Thanks to the FDJ site, you can participate quickly in these drawings :
Lotto
Euromillions
Keno
Joker +
Note : Amigo is not available online.
Then, on the FDJ site, you will also find several Bingo live games which are multiplayer Bingo of which each part costs between 0.50 € and 3 €, and which allow you to win several thousand euros.
Perhaps you will be the lucky winner.
Finally, you will also find Illiko games to win up to € 10,000 and the unmissable games, such as : Astro, Banco, Solitaire, ...
Note that this site sometimes offers promotions allowing you to get x € bonus when registering on their site. So, wait for the right time to register.
Current earnings of future draws :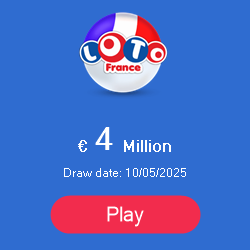 Warning : the offical site of the FDJ is reserved for people residing in France, Saint Pierre and Miquelon, Monaco or overseas communities.
If you are in an other country than those mentioned above, you will not be able to register on the FDJ.
Nevertheless, you can still play the Loto and Euromillions of the FDJ through theLotter site.
So, if you live in a country not supported by the FDJ, you will be redirected to the Loto France page of theLotter site.