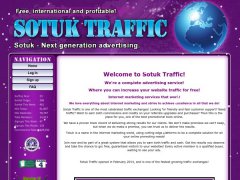 Sotuk Traffic


Description
Sotuk Traffic is a manual English traffic exchange site created in February 2014 and it's the site most used by Traffic Browser members.
Earn credits
To earn credits on Sotuk Traffic, you can :
visit sites available in the manual traffic exchange system.
use a promo code (Surf code)
validate the daily rewards according to your activity on the site.
This allow you to earn credits, banners impressions, text links impressions, and money.
create surf teams to earn more credits and get additional rewards reserved for users who are members of a surf team.
Promote your blog or site
To promote your blog or site with Sotuk Traffic, you can :
add it to the traffic exchange system
promote your banners on the site
add text links on the site
ordering various paid advertisements (ex: start pages)
Other features
On Sotuk Traffic, you will also find :
a rotators system (to promote multiple sites with a single link)
the ability to create your own splash page.
a downline builder section enabling you to recruit members for other English traffic exchange sites.
various features.
Other infos
Payments
Payment from 10 $
Automatic payment of sponsorship commissions every Friday via PayPal and Payza.
Payment processors available
Latest payment's proofs
No payment proof available for this site
Referral program
Referral on 1 level : ~40%
Earn up to 40% commissions in cash.
Our opinion
Sotuk Traffic is the traffic exchange site most used by Traffic Browser members.
Note : 5 / 5
Access the site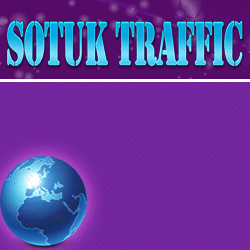 Review published on 17 August 2017 UTC by mondegains