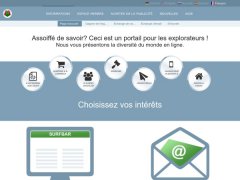 eBesucher


Description
EBesucher is a traffic exchange site created by the German company TurboAd GmbH in 2002.
When you register on eBesucher, you will be able to choose your interests to filter the sites you will see in the surfbar, as well as the mails you will receive from other members (if you wish).
As you can see, eBesucher is a traffic exchange site that also offers a mail exchange system.
This will allow you to promote your personal site in the surfbar to receive visitors, but also to promote your site or paid sites by sending emails to other eBesucher members.
Traffic exchange
For the Surfbar section of the site, you will have the possibility to accept or refuse these types of contents :
erotic content (+18)
sites with popups
sites with sound
Email exchange
For the emails exchange system, you will be able to activate or deactivate it.
In addition, you will have the possibility to filter the mails you will receive by choosing :
your interests
languages ​​in which you accept to receive these paid emails
if you want to receive them only in the site's inbox or in your own email.
the maximum number of paid emails you accept to receive
if you want to also receive emails with erotic content or not
Other infos
Type : Automatic

Site created in 2002
Country where the server is located :
Payments
Payment from 2 €
Payment delay : up to 7 days.
Payment processors available
Latest payment's proofs
No payment proof available for this site
Referral program
Referral on 2 levels : 8% / 5%
You earn 8% of the income of your level 1 referrals and 5% of those of level 2.
Our opinion
Autosurf with an unique concept that also provide a mails exchange system.
Note : 3 / 5
Access the site

Review published on 17 August 2017 UTC by mondegains