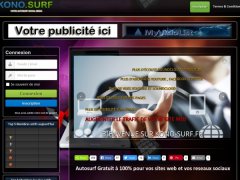 Kono-Surf


Trusted site recommended by Online Money World

Doubtful
Description
Kono-Surf is an exchange site of likes, shares, ... using the Powerful Exchange System PRO script like most likes exchange sites.
On Kono-Surf, you can earn points :
by following Askinger accounts and performing likes
by promoting a CPM banner
by liking pages, publications and photos on Facebook
by clicking on the +1 buttons of Google+
by following Instagram accounts and liking photos on this same site.
by listening to music and following SoundCloud accounts.
by tweeting, retweet and following accounts on Twitter
by watching and liking videos on Youtube
and more.
Supported social networks
Other infos
Payments
Payment from 1 €
You will be paid between the 1st and the 15th of the month.
Payment processors available
Latest payment's proofs
No payment proof available for this site
Referral program
Referral on 1 level : 111 points + 0,11$ + 11%
You earn 111 points + $ 0.11 per referral who registers via your referral link + 11% of his spending on the site.
Warning : your referral must make at least 100 exchanges (likes, shares, ...) so that you receive your sponsorship commissions.
Our opinion
Site of likes, shares, subscribers, ... exchange for the most known social networks (Facebook, Twitter, Youtube, ...)
Note : 5 / 5
Access the site

Review published on 17 August 2017 UTC by mondegains