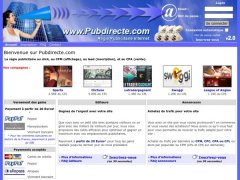 Pubdirecte


Trusted site recommended by Online Money World

Trusted

31 payment proofs
Description
Pubdirecte is a trusted affiliate network company managed by the Swiss company "Blue-Island Sàrl" allowing :
publishers to earn money by adding advertising on their site
advertisers to promote their website, their forum, ...
With Pubdirecte, you can :
promote CPM campaigns with a script displaying different banners each time the page loads (rotating banners system).
promote specific CPA or lead campaigns (form validation) with an external script. (provided by pubdirecte).
promote incentive campaigns only with an external script (provided by pubdirecte).
Currently, Pubdirecte offers campaigns to promote PTC sites, IT sites, ...
Although the number of advertisers on this site is rather low, this site may interest you to start.
Note that the "Blue-Island Sàrl" company which manages "Pubdirecte" also has another advertising agency named "MaxAds" which also pays.
Other infos
Country where the server is located :
Payments
Payment from 20 €
Payment by bank transfer from 20 €.
Payments can be made between the 1st and 15th of the month and will be made within 2 weeks.
Payment processors available
Latest payment's proofs
Only the last proofs of payment are displayed
Referral program
Referral on 1 level : 10%
You receive 10% of your referrals earnings.
In addition, when no advertiser is available for your CPM tag, a pubdirecte banner will appear with your referral link.
Our opinion
Trusted advertising network managed by Blue-Island Sàrl and still paying in 2023.
Note : 5 / 5
Access the site

Review published on 17 August 2017 UTC by mondegains