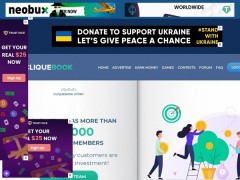 Cliquebook

Description
Cliquebook is a paid to click site who pays you for :
make clicks in the PTC
try your luck on the bookgrid to earn advertising credits or money
complete offers in ten offerwalls
subscribe on other sites with the PTS (Paid To Signup Offers)
surfing on other sites via the integrated autosurf (TE Surfing)
If you like gambling, you will also find 3 bet games.
Offerwalls available
Fly over the logo of an offerwall to get more information about it.
Other infos
487933 members
Site created in 2015
Country where the server is located :
Payments
Payment from 5 $
Payment processors available
Latest payment's proofs
No payment proof available for this site
Referral program
Referral on 1 level : < 0.02 $ / clic
There is also a sponsorship contest allowing to 10 best members to earn money up to 25 $.
Articles
GPTs (Get Paid To) are paid sites where you are paid to complete free offers, but also paid surveys.

GPT (Get Paid To)
01/05/2018 à 12h02
Access the site

Review published on 24 October 2018 UTC by mondegains