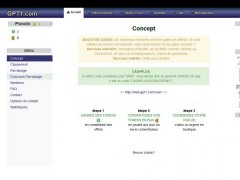 GPT1


Trusted site recommended by Online Money World

Trusted

3 payment proofs
Description
GPT1 is a fairly comprehensive multi-pay site (GPT) managed by Dessy Invest Ltd and currently offers 17 offerwalls.
This site exists since January 1, 2013 and currently has more than 280,000 members.
To earn money on GPT1, you simply have to complete the offers available in the available offerwalls.
Among these offers you will find :
surveys
paid regsitrations (PTS)
contests
mobile applications to download
etc.
When you complete these offers, you will get tokens (internal currency).
Then you can :
use these tokens to participate in the internal lottery
convert them into euros (via the "Tokens-> Euro" menu on the site)
play the "Tower" paid game proposed by the site.
Currently, GPT1 has already paid € 3,932,560 to its members since it opened in January 2013.
Offerwalls available
Fly over the logo of an offerwall to get more information about it.
Other infos
283295 members
Site created in 2013
Country where the server is located :
Payments
Payment from 0.15 €
All the payment methods proposed have a fee of € 0.15, except for CashPlus (€ 4 fee) and bank transfers which can have up to € 4 fee.

In addition to the payment methods listed below, you will also find codes for free gaming sites : Newpack, Youpi Pass, TopcodeA, MimiMusik, Aw-code et MTPass.
Payment processors available
Latest payment's proofs

Referral program
Referral on 1 level : 10%
You will receive 10% of your referrals earnings.
In addition to these sponsorship commissions, you may be able to win up to € 50 in the monthly sponsorship contest.
Articles
GPTs (Get Paid To) are paid sites where you are paid to complete free offers, but also paid surveys.

GPT (Get Paid To)
01/05/2018 à 12h02
Our opinion
One of the most complete GPT sites and offering many payment options
Note : 5 / 5
Access the site

Review published on 17 August 2017 UTC by mondegains