Description
Ask GFK is one of the many survey sites created by GFK (a German company).
GFK is a leading marketing company in Germany and has been operating since 1934.
The particularity of Ask GFK is to accept 21 different countries, Switzerland, the United States and many others.
The surveys available on Ask GFK are always created at the request of their different clients (known companies as Coca or Delhaize, but also lesser known companies, such as startups, etc.).
On Ask GFK you will find surveys related to these sectors :
Automotive : brands and models of cars, fuel type, ...
Finance : banking, insurance, financial investments, ...
Leisure and travel : your hobbies, your sports habits, your favorite brands for flights and hotels, ...
Health : food, drinks, favorite fast food, ...
Media : paper and electronic newspapers (on the Internet), television, radio, ...
Products : the different products you buy and/or use. Food products, cleaning products, high-tech, ...
Technology : computers, tablets, smartphones, connected objects, ...
In short, the surveys they propose are varied and they obviously change over time. While some surveys may return periodically to allow companies to track the evolution of their products and/or services.
Other infos
100000 members
Country where the server is located :
Payments
Payment from 10 €
Payments are made on the 15th of the next month and by bank transfer only.
Payment processors available
Latest payment's proofs
No payment proof available for this site
Articles
Survey sites are a real business and they allow you to make a lot of money in a short time.

Paid surveys
11/05/2017 à 14h39

In order to analyze our needs, the marketing research companies have created survey sites (to know our opinion on different topics), but also product testing, online communities, ...

Paid surveys
12/21/2017 à 12h36
Our opinion
Worldwide survey site created by GFK
Note : 2 / 5
Access the site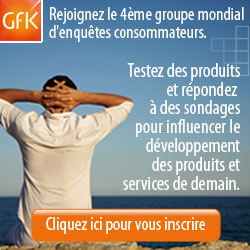 Review published on 17 August 2017 UTC by mondegains